Hi Friends,
We catch a cosmic break this month as eclipse season is now behind us and Mercury is moving in direct motion. June's energy will feel much more creative thanks to Venus and Mars traveling through fun-loving Leo. With this transit we need to follow our heart's desires, especially around self-expression, true love and romance, as well as inventiveness. It's as if we're being given an opportunity to embrace our inner child and go out and play.
As June begins the Sun continues to move through the whimsical sign of Gemini. This time of the year tends to feel more frenetic, active, and social. Open yourself up to new possibilities and be curious about the world. This month's New Moon will also highlight Gemini and takes place on June 18th. Gemini is a zodiac sign that craves communication, stimulation, and adventure, so we will collectively feel this resonate within our lives. We will be drawn to express ourselves verbally or through writing in order to better relay a highly important message. We will be ready to step outside of our comfort zones and connect with other people as well.
As much as Gemini loves to interact, unfortunately, though, this lunation carries some particularly difficult alignments, as the New Moon is square Neptune and will bring weakness, illusion, deception, and fantasy for us to face, also powerful Pluto will be inconjunct  bringing us a dark sea of emotions. Mercury, the planet of the mind, is important to pay attention to as he rules this lunation. On one hand, he's in a harmonious dance with Venus, bringing forth a desire to communicate our feelings, but he is also clashing with Saturn, bringing gloomy thoughts and blockages.
On June 3rd, our minds will be focused on the bigger picture as the Full Moon will be in Sagittarius. This lunation will bring important news within three days before or after. Full Moons are times of culmination, endings, or turning points and often are quite emotional. Sagittarius is a Fire Sign that is known for its connection to academics, spirituality, and culture. It is a zodiac sign that always pursues new horizons. We will be eager to step out of our comfort zones, embark on new journeys, and be curious about our place in the world. The energy of this Full Moon is tied to the situations, events, and plans that were launched after the Solar Eclipse in Sagittarius on November 23, 2023.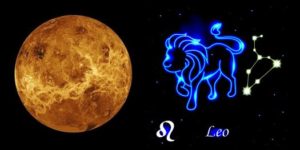 Our desire to look good, feel good, and think about partners goes through the roof when Venus enters Leo on June 5th. Venus will be visiting Leo from June 5 to October 8, 2023. This is an extended visit due to an upcoming Venus retrograde cycle on July 22nd through September 3rd. Love is magnificent and grand while Venus is in Leo. We take pride in love, and we are generous with our money as well. This is a warmhearted, teasing, proud, expressive and extravagant placement for Venus.
Love becomes a game during this transit–a game that is perpetual, as Venus in Leo is forever stuck in the romance stage of a relationship. We feed on attention, acknowledgement, validation, and adoration. Venus in Leo loves to be adored, pampered, and admired. Pride and passion are hallmarks of this cycle. We have a strong ego investment in our love lives during this period. The negative expression of this placement is overstating our feelings simply for the effect, as well as extravagance.
The Venus-in-Leo cycle can be a strong or profitable time for contests, lotteries, parties, recreation, drama, adornment, jewelry, costumes, art dealing, and all things golden. Generosity and warmth contribute to our ability to draw in the right resources. We can have a compelling desire to stand out, be remarkable, and feel special during this transit.
Unfinished business returns on June 11th when Pluto retrogrades back into Capricorn. Pluto represents the underworld and things that are hidden, with its retrograde in Capricorn (purpose, control, structure) it will reveal to us what we might have missed and what we really want. It's a deep dive into anything that's below the surface that needs to be brought into the light. Pluto will turn direct on October 10th and then re-enter Aquarius on January 20, 2024. Pluto will do a similar dance between the signs of Aquarius and Capricorn in 2024, but will settle into Aquarius for the long haul beginning November 19, 2024.
Our need for communication will be on overload when Mercury enters mental Gemini on June 11th. When Mercury is in Gemini, we are especially communicative, curious, and sociable. Mercury feels right at home in Gemini, one of the signs that it rules. We tend to take more pleasure in gaining a superficial knowledge of many subjects rather than digging deep into any one topic. When it comes to making a point or debating, we are especially astute while Mercury is in Gemini. We are attracted to wordplays, puns, and negotiations, and we're easily distracted.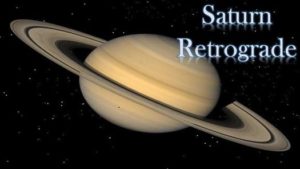 We'll be doing a lot of reflecting beginning on June 17th when Saturn retrogrades in Pisces. When Saturn stations and turns retrograde, and it's best to take it easy, consider your responsibilities, and work step by step towards your goals. During its four and half month retrograde period it will be a natural time for us to review our obligations and reconsider our personal plans. Some level of withdrawal is possible now during this retrograde.
During this reversal we are learning more deeply about our spiritual goals, tying up loose ends, or finishing long-term projects that have outworn their purpose. Saturn's station can feel a little heavy as we sense that we're switching gears, but in time, we'll adjust to this shift, and we're likely to welcome this cycle of review. It's not an ideal cycle for launches of major long-term projects, but returning to complete old projects can be rewarding.
This month's New Moon in Gemini with occurs on June 18th. The New Moon in Gemini cycle presents opportunities to commit to personal goals that express the positive energies of the sign of the Twins. It's time to improve our communication skills by listening to others and enjoying others' points of view, rather than doggedly seeking to find that one elusive "answer."
This is a good cycle in which to re-evaluate our communication and social skills by questioning just how much we actually take in information and communicate in a friendly, non-threatening manner. With this potent Gemini energy, we have the chance to make important changes in our lives.
However, this lunation forms a square to Neptune and a quincunx to Pluto that can represent some disillusionment as we try and embark on a new path. We can be wrestling with perceptions and expectations. It's hard to see our direction, but our discomfort with the past can be very real now, motivating new beginnings.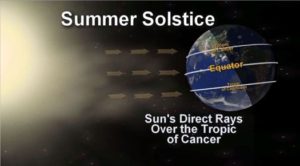 Our emotions come to light on June 21st as the Sun enters sensitive Cancer and marks the Summer Solstice in the North Hemisphere. At this time of the year the Sun's ego-centered energy combines with the reflective, hidden energy of Luna. The past is important to Cancer, as is the concept of nurturing – both self and others. Cancer is a cardinal water sign, ruled by the Moon, meaning that it is active, yet runs on emotions. Think about the ocean and the tremendous depth of the water. Yet the power of the Moon pulls that water from one side of the earth to the other as she moves through the night sky.
During the Sun's transit of Cancer we are self-protective and insular under this influence. Our attention turns to our nest–our families, homes, and anything that makes us feel "at home," safe, and secure. Nurturing and caring for our loved ones and pet projects come into focus. Emotions run deep, and we easily tune in to the world of feelings. Note that we are more in tune with the Moon while the Sun is in Cancer.
On June 26th Mercury enters Cancer as well. When Mercury is in Cancer, we move from the desire for quantity to the need for quality in terms of the information we are attracted to. We think, speak, and take in information on a deeper, more instinctive level now. We have less interest in what is universal, and more interest in what affects us personally and what affects the people close to us. Our thoughts are colored by our emotions, making it more challenging to be objective.
Have a wonderful month folks!
Joseph P. Anthony