Hi Friends,
Hope you are doing well during this transition period. There will be many more changes this month, including another Lunar Eclipse, another New Moon in Cancer and Mercury will end its retrograde cycle. There is some good news in July as our drive and determination returns thanks to Mars now transiting its home sign of Aries. Over the past six weeks Mars has been in the watery- self-doubt sign of Pisces. Now that it's in its home sign fiery Aries, this should help us feel better and accomplish more. One of the down sides of this transit is impulsiveness and a need for conflict. We will need to be careful not to overreact and go off the deep end.
The month begins with the Sun continuing to visit the sign of Cancer. During this transit the Sun shines its light on our feelings, family, and foundation. Many people find themselves remodeling their homes, looking to move, visit with old friends, spending time with loved ones, or just want to stay home and enjoy the safety of the quiet environment. While all this energy is beginning to move in July, Saturn slips back into Capricorn for its final visit in this sign. Saturn went retrograde on May10th in the sign of Aquarius and will move direct once again on September 29th. Saturn represents karma and purpose so when it's in reverse; it gives us time to reflect on matters such as fulfillment and our roles at work.
With Saturn now rejoining Jupiter and Pluto in Capricorn, we will now see some significant changes or developments with regards to governments, military, police departments, corporations, financial matters, and religious institutions. All of these areas will be highlighted for the rest of the year, especially in October when all three of these planets will be out of retrograde mode.
On a personal level, with Saturn retrograde in Capricorn we beginning to learn more deeply about our spiritual goals, tying up loose ends or finishing long-term projects that have outworn their purpose. Initially, Saturn's reversal can feel a little heavy as we're switching gears, but in time, we will adjust to this shift. The retrograde cycle itself is a powerful period for review and is not as ideal for launching any major long-term projects. Returning to complete old projects can be rewarding now though.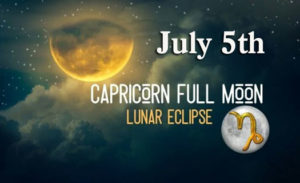 The major cosmic event this month takes place on July 4-5 when the Full Moon Lunar Eclipse highlights the sign of Capricorn. Lunar eclipses are cycles that have completed or are about to end. They signify a turning point, something we need to leave behind, change, finish, and go in a new direction.
This eclipse is the final in a set of eclipses occurring along the Cancer-Capricorn sign axis–a set that began in July 2018. It can be considered the final cosmic nudge toward resolving issues related to the Cancer-Capricorn themes. Cancer encourages us to value our home base and our roots, while Capricorn persuades us to consider our sense of duty and responsibility along public or professional lines. We can clearly see this being played out in the US with protests and riots. While Cancer may be content to be dependent, Capricorn urges us to be grown-up and responsible.
Cancer represents the origin, and Capricorn represents the goal. The Full Moon illuminates these conflicts. With all Full Moons, the energy between the Sun and Moon are building inside of us, and now is the time when the energy of the cosmos fairly demands that we let it out. Over the coming weeks and months, we will discover what this means for us. For now, we can't sit on our feelings. We need to express them. This lunation happens to be close to the retrograde Jupiter-Pluto conjunction, making revelations rather dramatic, but fortunately its harmonious connect with Uranus helps us to release and let go.
Our thinking gains some traction on July 11th when Mercury goes Direct in Cancer. During the few days before and after this turnaround of Mercury in Cancer to direct motion, we may find our feelings getting hurt over misunderstood criticisms of our ideas, but once the speed of the direct motion takes off, forward progress will be made and we will be able to see new ways to put the finishing touches on our plans. We'll also be able to start catching up on the backlog of projects that we've been unable to get finished. Just remember to include your feelings in the matter. If you pay attention to them, what you accomplish will be a lot more rewarding.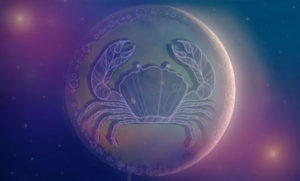 The second New Moon in Cancer occurs on July 20th. The first one was last month on June 21st and was also a Solar Eclipse. As with anything to do with a Cancer Moon, it has to do with foundation, family, feelings, security, and more stability. Unfortunately, this Lunation with be a in tough alignment to the three outer planets in Capricorn (Jupiter, Saturn and Pluto) which can bring restrictions and hardship. It can be a real struggle to overcome limiting conditions because as well as putting up barriers to progress; the opposition to these three planets makes it harder to express ourselves. The best course of action during this New Moon is to spend some quiet time reflecting on your past and taking small steps into the future until some of the heavy energy subsides.
The creative juices start flowing on July 22nd as the Sun makes it when into lively Leo. The Sun in Leo is in the sign that it rules. People who have lots of Leo in their chart often look as if they have a yellow halo around them, like a backlit photograph. When the Sun is in Leo we feel happier, have more energy, and feel a need to create or express ourselves more. Leo is all about being seen and heard so the Sun in Leo is all about being on center stage. Taken to extremes, Leo's energy can, of course, lead to arrogance and obnoxiousness. Thinking of others is the last thing on our minds. For the next month, we'll all have a chance to feel more confident about whatever we might be doing. And we'll have a giant energy boost to help us along. Just try to remember that other people are feeling exactly the same way.
Psychic Astrologer
Joseph P. Anthony