Hi Friends,
Hope your summer (Northern Hemisphere) is going well. The cosmic energy shifts a bit this month offering us an opportunity to step outside of the box. During this time of year when the Sun is visiting creative Leo we tend to feel more optimistic and playful; so August will be a time for us to slow down and enjoy ourselves a little more. The astrology this month continues to connect us to the past as five planets will be retrograde beginning on August 15th. However, the Full Moon this month will challenge us to break old habits before moving forward, while the New Moon in Leo will offer us an opportunity to go in a new direction.
We begin the month with a strong Full Moon in Aquarius on August 3rd. This lunation will be square to Uranus with a T-square to the Sun and sextile Mars. This is lots of explosive and unpredictable energy. Since this Full Moon highlights Aquarius and Uranus rules this sign we can expected some surprises or sudden revelations. There's no such thing as a "typical" Full Moon in Aquarius, but this one is unusual even by the standards of this most eccentric sign. Full moons tend to bring out the more emotional, instinctual—you might even say irrational— side of our nature. And although Aquarius can be quite intuitive in its own way, it tends to favor the head rather than the heart. As a result, even full moons in this fixed air sign can have an emotionally detached kind of vibe.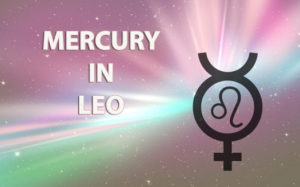 On August 4th creativity returns as Mercury enters Leo. Mercury has been in Cancer for a long time. It officially entered Cancer on May 28th, but then went retrograde on June 18th as a result it stuck around in emotional Cancer more than usual. Now that Mercury is in a more favorable sign, Leo, we all begin to want applause for our dramatic, big-picture concepts. Mercury in Leo brings a tremendous surge of activity, like the wind whipping up a fire storm. This is what you could call an extremely symbiotic relationship. Mercury, that little instigator, stirs Leo's already strong and active passions into a frenzy of doing things. Then, as Leo's heat intensifies, Mercury's winged feet have to move even faster to stay one step ahead of the next flying cinder. By the end of Mercury's stay in Leo, don't be surprised to find yourself exhausted.
And speaking of planets spending a long time in one sign, Venus finally leaves Gemini and enters Cancer on August 7th. Venus too has spent a long period of time in one sign, Gemini. It entered Gemini back on April 4th, then went retrograde on May 13th and now will finally leave this sign. When Venus is in Cancer we tend to value home and hearth, this brings us a time to relax and enjoy the people and parcels of home or anything concerning feelings and foundation. Cancer is a sensitive, caring sign, a sign where the Venusian energy is easily expressed. Empathy comes freely and there is a real desire to provide nourishment to those around us.
The cosmic dynamics begin to change on August 15th when first Uranus goes retrograde in Taurus and Mars squares Pluto. When Mars, Uranus, and Pluto are all interacting like this we can expect some significant change. Erratic behavior or unreliability could cause problems on or around this time frame. Transiting Uranus retrograde is a regular cycle lasting 155 days every year in which the planet moves four degrees backward through the zodiac. This is a time of inner change in response to external changes in our lives. With Mars and Pluto in the picture we can be motivated to push forward beyond our comfort zones.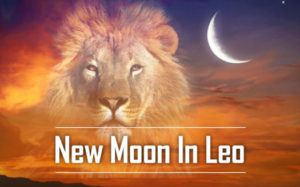 This month's New Moon on August 18th will highlight the creative sign of Leo. With this Leo New Moon many may feel the passion to start something new or are ready to breathe new life into projects, ventures, and relationships. With this Leo lunation, we are not just breaking up old patterns as we strive to find the shape of a new creation. We must actively engage our hearts that will open the creative process. Leo relates to the urges of the heart, and people talk about the willingness to "change in a heartbeat" to something they would prefer. Discipline Saturn will be aligned to this lunation so be realistic about what you want and begin to manifest it.
On the follow day, Mercury enters Virgo. Mercury's move into Virgo brings a period when we want to get down to work on those big ideas. Mercury is the ruler of Virgo, and for good reason. Virgo is focused on figuring out how all the little pieces of the puzzle fit together. Since Virgo is an earth sign, the ideas that appear during this time do have at least one foot on the ground, so they tend to be useful and well thought out. Our only problem now is not to get so hung up on the details that we forget why we're there in the first place.
Responsibility and focus are the theme when the Sun enters Virgo on August 22nd. As the Sun moves through Virgo, a mutable earth sign, our focus shifts to analyzing the details in our lives. We'll be curious about all the tidbits of information and how they fit together. Virgo loves nothing better than solving puzzles, some meaningful, some just for the fun of it. Virgo is ruled by the flighty Mercury, but because of the earthiness of this sign, the thoughts and ideas are more down to earth. While the Sun is in Virgo, we become very practical. Yet Virgo is a mutable sign, so we can also be flexible and accepting of new ideas and better ways to think about things.
Psychic Astrologer
Joseph P. Anthony